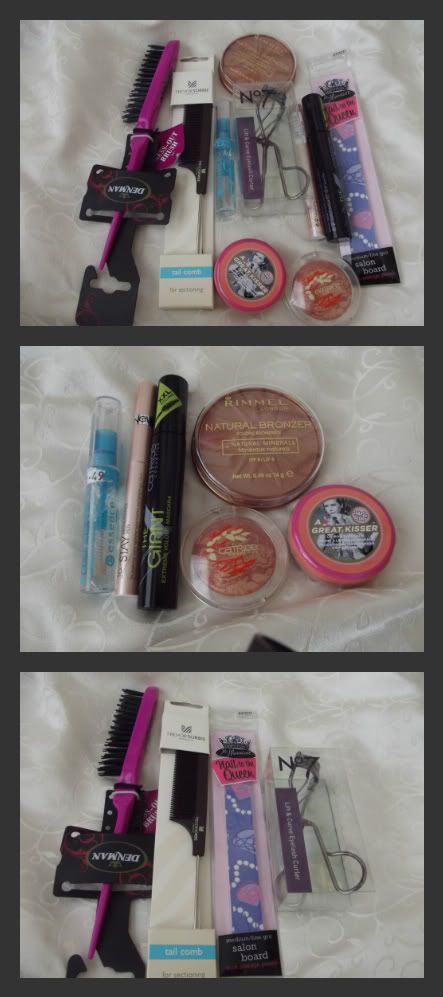 So I said before I have a build up of posts that I've wanted to do over the last few days. So unfortunately here is another hauls. This one is a collective Boots Haul of items I have had an eye for for a long time. I didn't purchase these all at once, this haul took place over a few weeks.
Essence Lash and Brow Gel Mascara: I use this to set my brows after filling them in. I've had it for a few weeks now and has become an everyday essential. It sets my brows for the day. I hate when there is a random hair just sticking out the wrong way and thanks to this bad boy I no longer have that problem.
Catrice Made to Stay Highlighter Pen in 010 Eye Like: This was an impulse buy as I am a sucker for highlighters and have been on a hunt for the perfect highlight for a long time. It has a creamy consistency and its a very light peachy pink colour. I really like this product as it is very long wearing and does not smudge. Also it is the perfect size for on the go touch ups and as it in in the pen format you don't even need a brush.
Catrice The Giant Extreme Volume Mascara: I was very intrigued by this because of the brush. it is shaped like a tear drop of a Christmas tree. Wide on the bottom and narrow on the top. I normally like Catrice Mascara but I have such problems with this because of the brush. I haven't fully figured out how to use it and keep getting mascara all over my face so maybe this is one purchase I shouldn't have made. Although I would tips on how to use this brush, so if anyone has tried it please let me know what you think in the comments.
Rimmel London Natural Bronzer in 022 Sun Bronze (Light Matte Bronzer): I have been looking for a nice matte bronzer for a while as all of my bronzer's seem to have some sort of shimmer effect in them. I love shimmer but it was getting ridiculous. Kandee Johnson recommended this bronzer in one of her videos so i decided to pick it up. It's not bad for the price but I am not mad about it, I just think the colour doesn't suit my sick tone or something. I'm not sure but I'm just not mad about it. Again is someone could recommend a nice matte bronzer please let me know.
Catrice Unbeleaf'able Blush in C01 Dancing Nymph (Baked Coral Colour): Another one of an impulse purchase. I saw the swrils and fell in love. As it a baked blush it has a lovely shimmer effect and is a light coral colour. It is a really nice day blusher. It just gives your cheeks a warm glow. I love this colour, it's something I didn't have in my make-up collection already. It is limited edition but I think it is still available
Soap & Glory A Great Kisser Lip Moisture Balm in Juicy Peach: I love lip products; balms, glosses, sticks and butters and to top it off I love the smell of peaches so this was a win win situation. The packaging says its a balm but its very glossy. I actually use this over some lipsticks to give them a glossy finish. Again a handy item for your make up bag as it conditions and it ever so glossy and smells delicious.
Second Picture:
Denman Tail Comb: When I first saw this comb I had so idea what it was but now I could not live without it. It back combs the hair, it can be used to create up do's and it has a tail at the end to use for sectioning. It is just a really handy comb. I carry this in my handbag now and I find myself reaching for it more over my Tangle Teezer; I love it.
Trevor Sorbie Tail Comb: I know what your thinking why did you buy two tail combs but I didn't realise how similar the two combs were. I bought this comb to do fish tail plaits and plaits in my fringe as the tail is so precise it makes it easier.
Ms. Manicure Nail to the Queen Salon Board: I really like these nail files
No. 7 Eye Lash Curler
: I have been looking for a new eye lash curler for a while and I saw this my friend Aoife's Blog
fashionturntotheright.blogspot.com
a while ago. So when I got a voucher for €7.50 off a No. 7 purchase I ran back to Boots to pick this up. I have to say I really like it and best of all it didn't break the bank.
So that was my haul. Hope you enjoyed it. Let me know if you have tried any of the items and how you found them.
Talk soon
Avril
Xx