So I'm getting better at updating! So I don't know if you have heard about the Revlon Lip Butters but I heard about them back in November for American Beauty Guru's on YouTube so when I heard that they would be available in Ireland in March /April I was very excited. the last few weeks I have stalked any Boots store running in and hoping they would be there and for weeks there was nothing. It was getting bad.
So you can only imagine my excitement when I saw that they were in store. I was into the Boots in Jervis Centre on Henry Street to return one of the Maybelline 24hr Color Tatoo in Gold for the Collection 2000 Lasting Perfection Concealer in Fair and I saw them! The Lip Butters I had been searching for!! I had been looking these for so long I could literally run in and pick out the shades I wanted ( I Know, OBSESSED!!).
I picked up:
035 Candy Apple; which is a reddish colour
050 Berry Smoothie; a purple 'berry colour
080 Strawberry Shortcake; a bring pink
I loved these so much two days later I went back and picked up:
025 Peach Parfait; a coral shade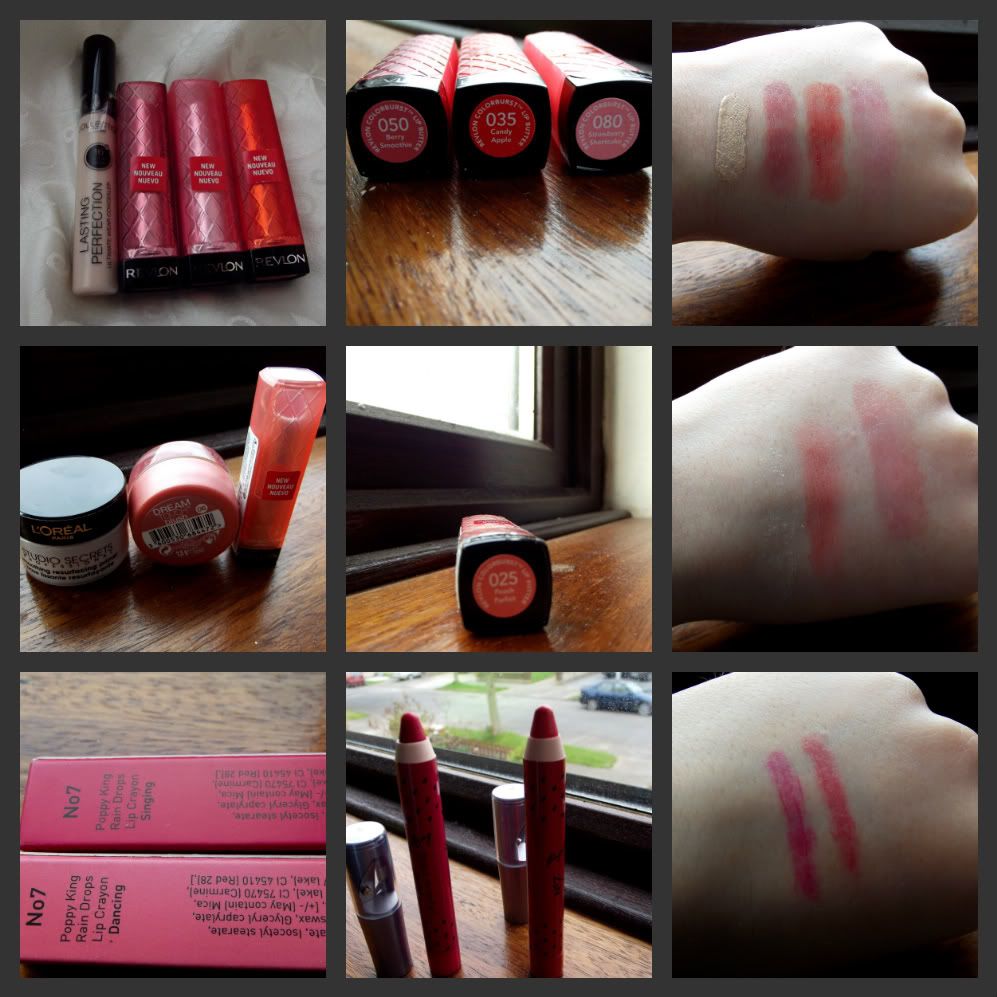 now it was 3 for 2 when I was in Boots so of course I had to pick up some other items:
L'Oreal Paris Studio Secret Professional Smoothing Resurfacing Primer
Maybelline Dream Touch Blush in Berry ( a lovely shimmery cream blush)
I also had two €7.50 off No.7 vouchers, so I also picked up:
No. 7 & Poppy King Lip Crayon in Singing ( a dark pink)
No. 7 & Poppy King Lip Crayon in Dancing (a dark coral)
So this has turned into a small haul but I will give a quick review of the Lip Butters. To be honest they are AMAZING!!! for being lip balms they have a very good colour pay off. I have worn all of the colours at least once and they last for a good few hours. Also as they are lip butters they are conditioning for your lips.
Revlon have a huge selection of colours and I am sorely tempted to get more colours. They have a gorgeous bright purple called Lollipop that reminds me of MAC Up The Amp, just the colour is very similar. All in all there were a great buy and I am very happy with all of them!!
Have you gotten any of the Revlon Colorburst Lip Butters? What colours do you have?
Let me know in the comments below!
Talk soon
Avril
Xx